September 5, 2021. Thun, Switzerland
0400, the alarm goes on, time to wake up and have breakfast. After two years training through a pandemic, it is time for that big challenge I fixed myself: The Ironman Switzerland Thun.
An Ironman is a long-distance triathlon composed of:

a 3,8 km swim in the lake
a 180,2 km road bike ride
and running a marathon (42,2 km)
It is time to pack up the last things and go to the transition zone. It is so quiet. Time to put bottles on the bike, last check on the equipment, put on the swimsuit and let's go to the start area.
Lake temperature is officially at 18,9 °C. I put on my red swimcap and goggles and go for a warm up swim while the sun is rising over Lake Thun.
0645 The Men Pro field goes on, followed closely by Pro Women. The pression is going up. From 0700 it is our turn. 5 participants ever 4 seconds. You line up, move forward at every bip until its your turn. GO.
Except my goggles taking water on the last 200m (I was loosing them and my swimcap) I had a quite easy swim. I was feeling great.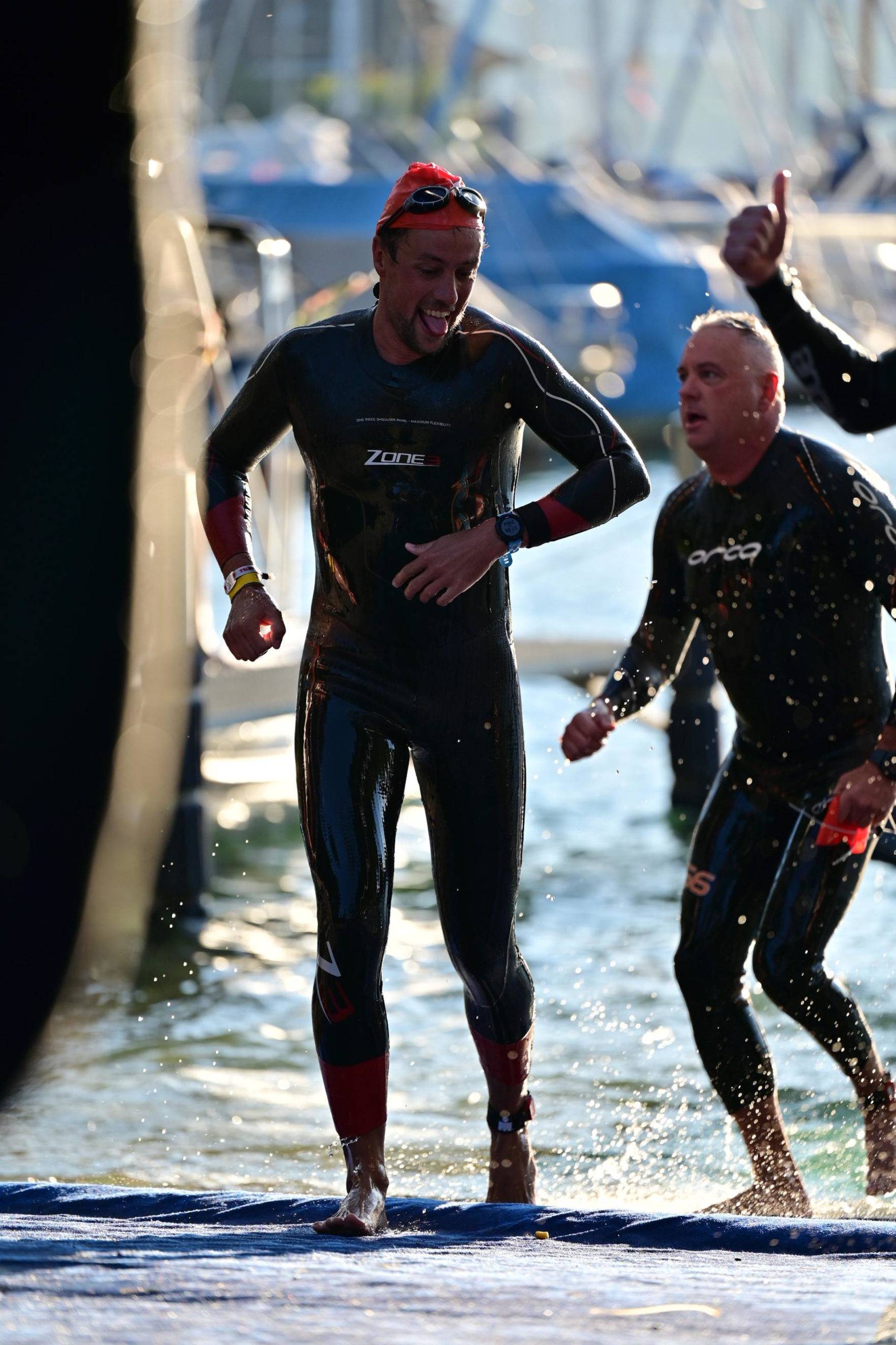 Little run through the transition zone, put on the tri suit — I decided to not wear it for the swim to be dry on the bike and not be cold —, put on the helmet, grab the bike and go for 180 km. Little low moment at 100 km (A pee break in the woods resolved everything)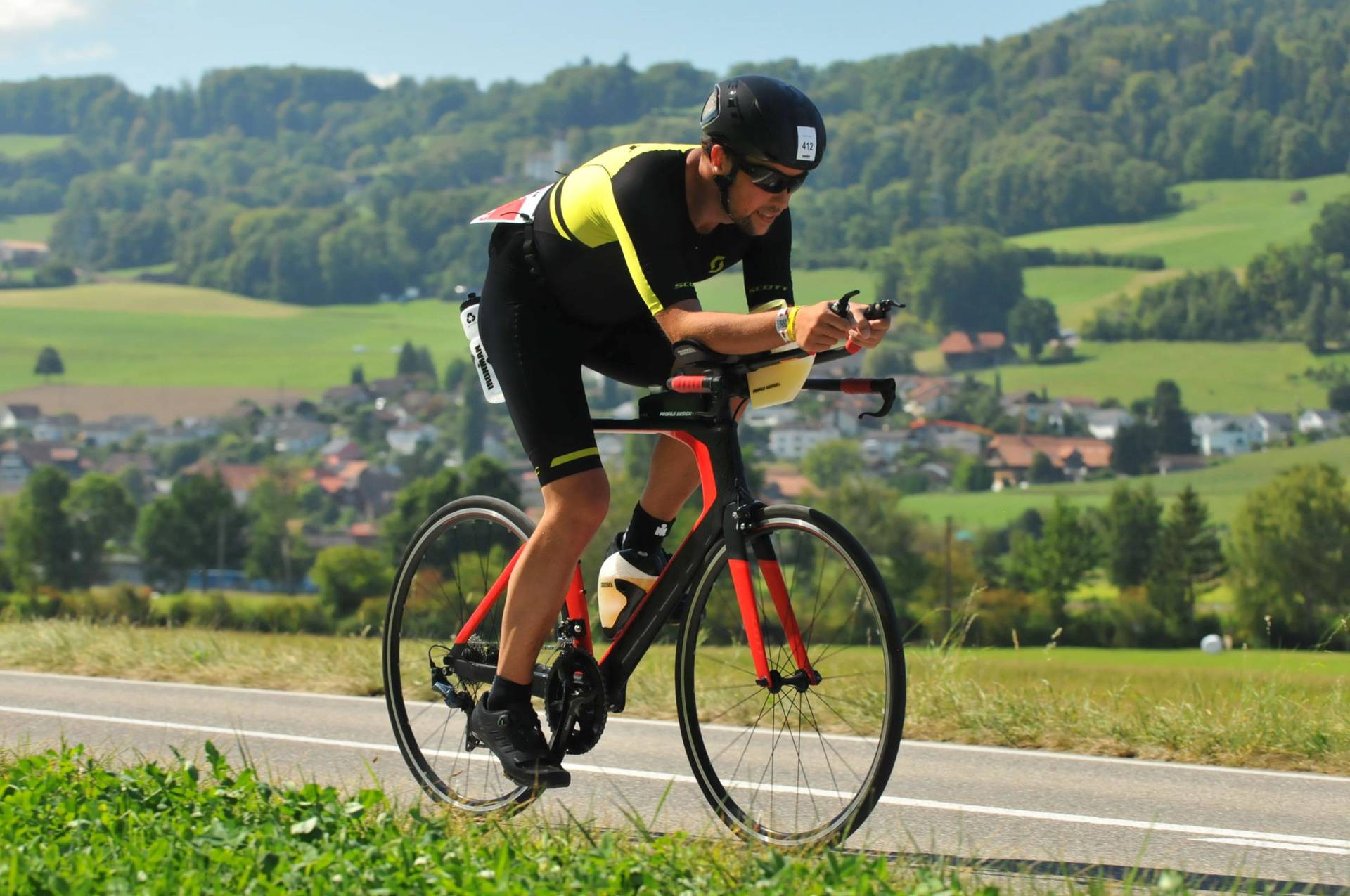 Troubles started at around km 145. I had cramps and had to slow down and walk a little. I was missing some salt. I had to take it easy until my personal supply. It helped finishing the bike.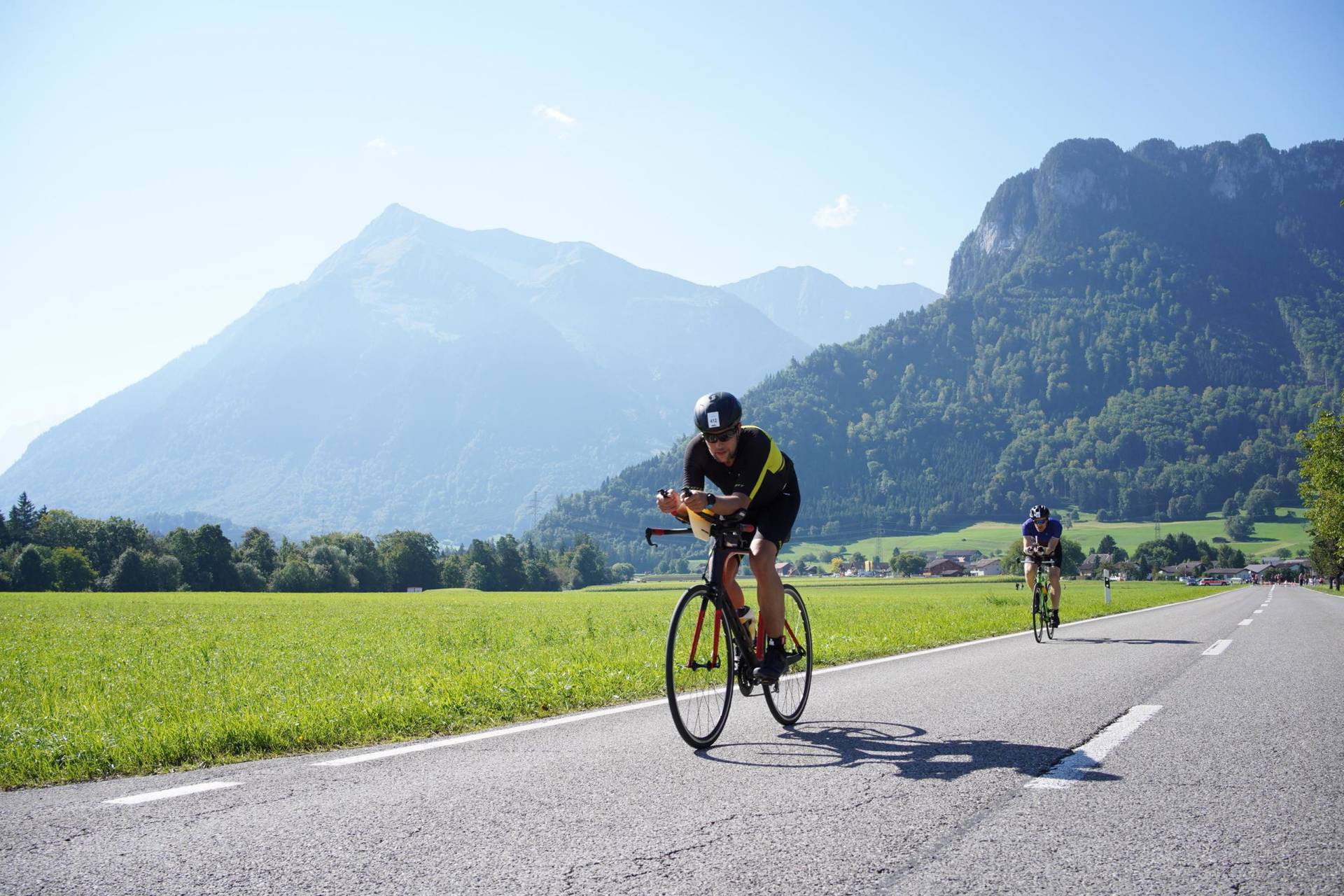 Second time in the transition zone. No details. Drop everyhting bike related, put your shoes on, a cap, sunglasses and run! My fans (my kids and family) were at the exit of the transition zone to cheer me up. Best booster.
I had trouble fueling myself at the beginning of the run: salty sticks, soup, isotonic drink ... nothing was what I needed. Until I found some small bags of salt (cooking salt) : 1 bite of salt, two sips of coke for the next 3 refueling stations. Everything was good again. Small low moment at km 18 but soon it was km 21. Secret: It's my first ever marathon. I never ran more than a half-marathon. Then from here everything was a bonus. Enjoyment level was high.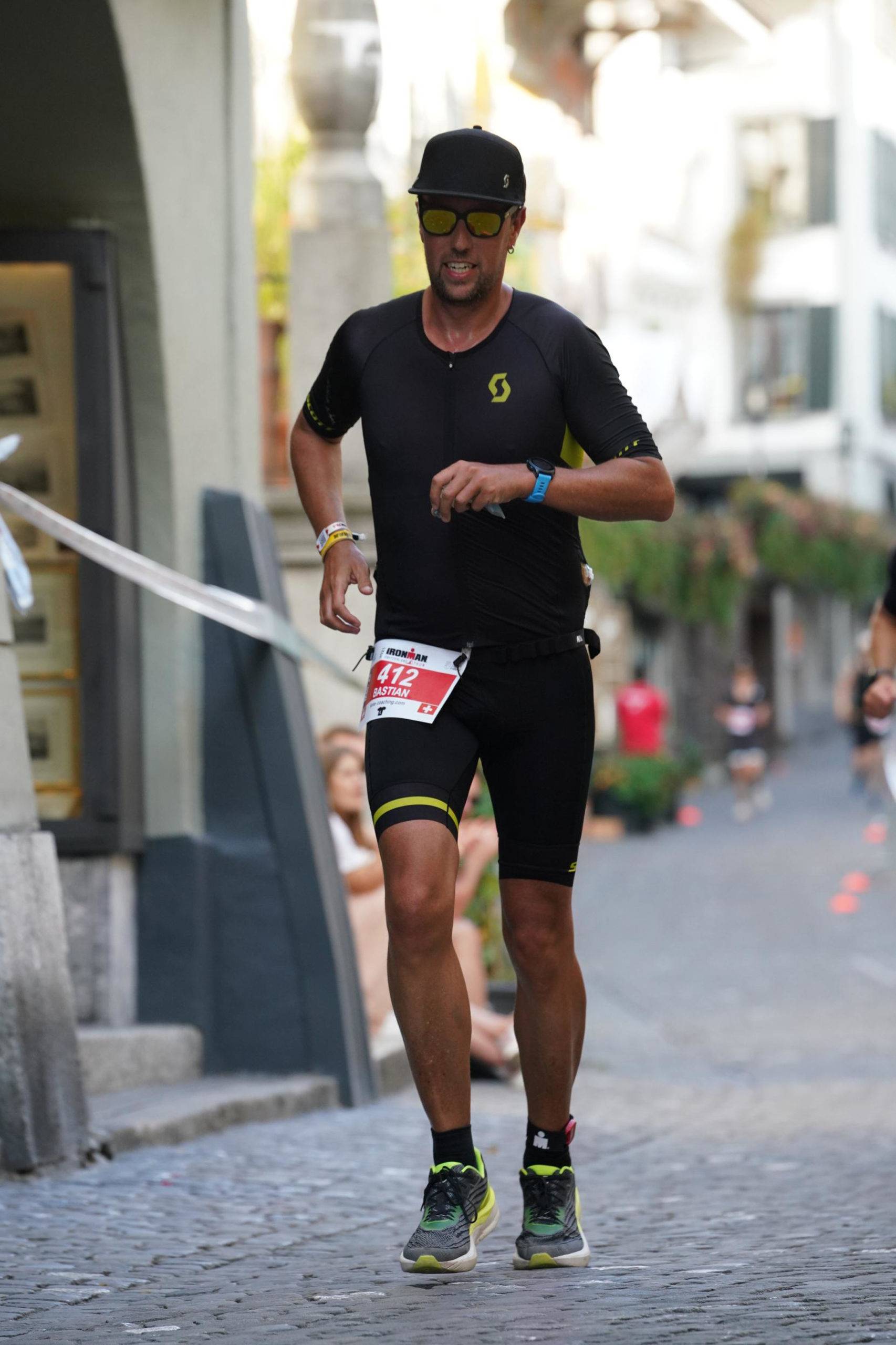 And soon it was km 32. 10 left! 10 km, I know that. It's the lunch run, the quick after work run, easy to clear. I was even able to level up the pace on the last 2 kilometers. The finish line is almost here, it is time for some tactics: faster enough that no one can catch me but not too fast to not catch the one in front of me, to be alone on the carpet! Last turn and there we are: the black and red carpet, with a crowd clapping and cheering.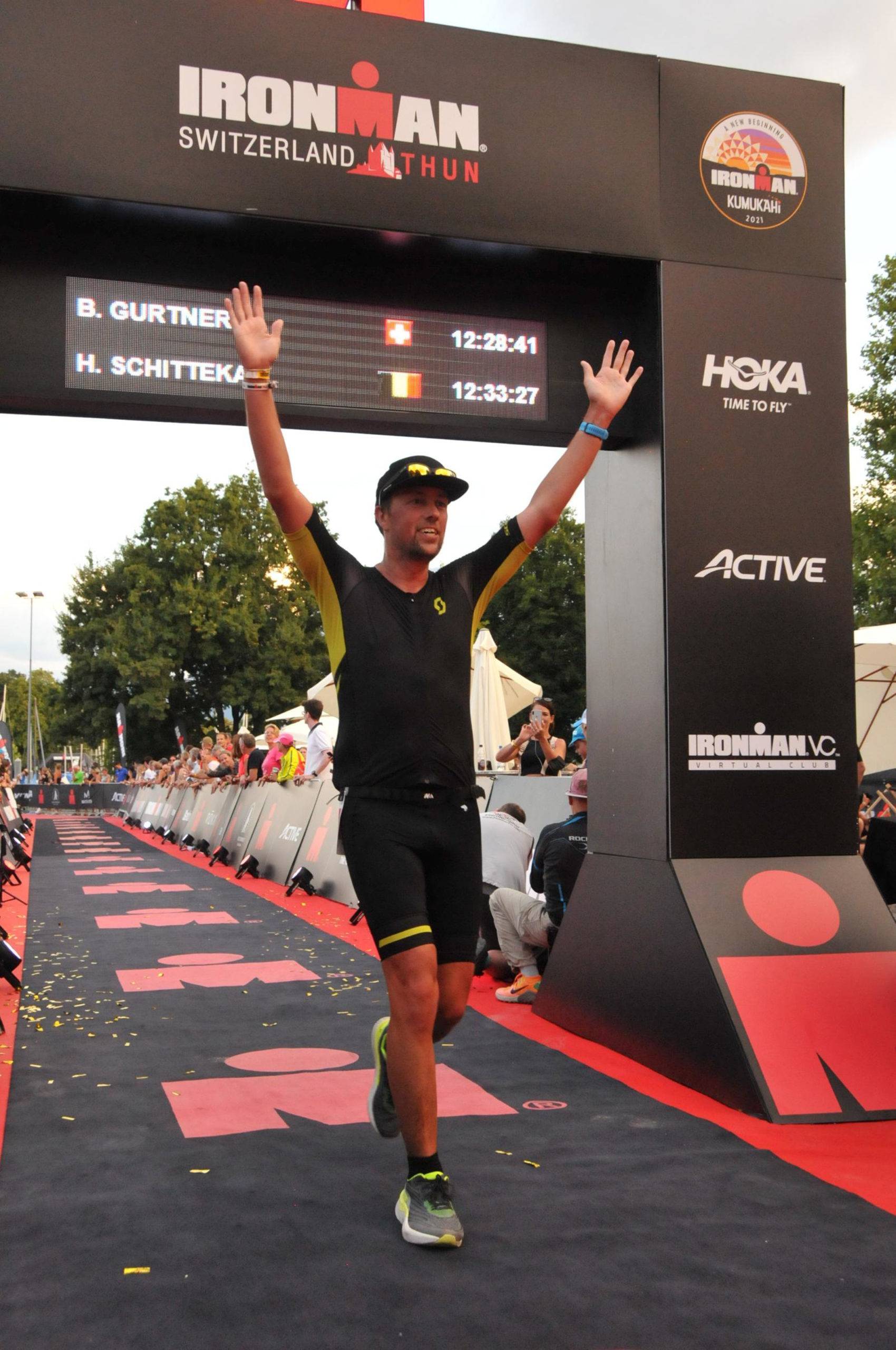 And the MC goes :
Bastian, You Are ... an Ironman!
Yes, I did it. It still gives me goosebumps. All that hard work rewarded they pass that medal around your neck. It was an amazing experiences. One question remains: when will be the next one? :)